Govideotoday is an assembly line. We manufacture flat 2D animated videos. Inexpensively and in record times.
An editorial team evaluates your narrative and action document. Then we suggest the best visual style for your story.

Accompanied by a production budget.
We process the raw materials into a visual storyboard. This is the batter that'll go into the Animation oven next.

The Storyboard follows the look and feel of the visual style you've chosen. Colors are taken from your website.
Break all the eggs into a bowl. Be careful - don't break the yolks.
Whip the daylights out of the batter. Make it airy and light - we're making pastry.


We do the heavy lifting here.

Our expert animators and sound engineers will get to work on the storyboard and start building the actions and transitions.

Sound effects are added. Voice over is added.

You have to wait outside the oven though.
Grab a good book and wait this out.
All your information is secure with GVT
1 Storyboard uses 1 Visual style.

CHARACTERS don't have facial expressions. ICONS don't move like characters do.
Anything can be made to look like a CUTOUT.
LET YOUR HOST GUIDE YOU ›
All your information is secure with GVT
Cap'n Jim
also called Pranam Shetye
'Factory Style' ???

Your video moves on a conveyor belt and specialists work on it when it reaches their workstations.

Some parts we manufacture, some parts you give us and some parts we source from third parties.
* for a 2 min production.
My visual style is not here - can you still deliver?

As a creative team, we have the minerals to deliver. Show us what you have in mind, we'll map it to one of our styles.


What are typical timelines ?

As CUTOUTS & ICONS take about 30 days.
CHARACTER will take about 40 days.
EXPRESSIONS can take 50 days or more.

NOTE: Clock starts when the editorial team has given a go-ahead to your start-off documents.

What Project Management system do you use ?

Yammer is our project management system. You get daily email updates about the progress of your video.
Only 2D animated?

At present GVT only produces Flat 2D animated work. Do check with your host about upcoming styles.
What do you need from me ?

1 › Narration Document - what the voice will say.
2 › Action document - what the eyes will see.
3 › Choice of the visual style.
4 › Choice of a voice from our library or a final Voice over recording from your end.
So you just do the Animation bit ?

If you give us the artwork and the scenes - then yes.

Else we're doing artwork, scene creation, storyboard building, animation, sound effects, audio mastering, and final mix render.
What do you mean by 'Worldclass output' ?

Nationality, creed, religious and sexual beliefs don't matter. Anyone can watch and enjoy your video without feeling offended. Or bored.

Lovable. Memorable. and Actionable.
YOU GIVE US

THE 2 DOCUMENTS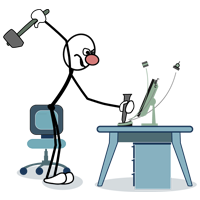 Will you script my story?

No.

If your video is a cannon, the script decides the cannon's bearing, azimuth and distance. This requires a storyteller.

Contact us for a storyteller on hire.
How many options will you give me?

We give you 1 free Storyboard.

We give you 1 background score.

We give you 1 take of a Voice Over.


What governs pricing?

The visual style you choose decides the price of your video. Accessories like VO and Score are to be purchased separately.
Who will do the voice over?

Morgan Freeman didn't want to sell his voice for $50 - but the options on our library have worked well in the past. Voicebunny.com has great options for premium pricing.